Bimetal Bushes

We have a wide varieties and range of monometallic, bimetallic and sintered bronze bearings, which are ideal for various industrial applications on both land and underwater. Our range of impregnated solid bronze bearings is intended for use in maintenance-free operations, under moderately high speeds and low loads. Designed for lubricated conditions, our mono- and bimetallic bearings are suitable for use in a wide range of operating conditions.
Bimetal bushes are produced from Bimetal strips with Sintered Copper-Lead Bronze lining and Steel as backing up material . The steel back provides extra strength, while sintered bronze lining provides a bearing surface which results in reduction of friction and wear-tear. Bimetal bushes are widely used for applications with vibratory loads, Impacts and frictional area.
Specifications:
Material for Back : Mild Steel SAE 1008 / SAE 1010 or Customer specified.
Material for Lining : As per application, Sintered copper-lead bronze material of the following grades is used :
SAE-49, SAE-792, SAE-793, SAE-794, and BABBITT
Bimetal Spring Bushes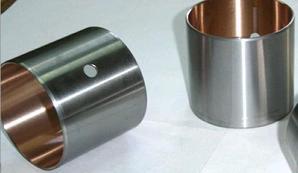 Bi-metal bushes in laminated spring and shackles are designed to withstand impacts,vibratory loads as well as friction. Our bi-metal spring bushes are capable to withstand these loads. Also, grooves and grease dots are provided to retain lubricating material and thus reducing extra wear-tear and providing longer life in abnormal working
environments.
Bimetal Kingpin Bushes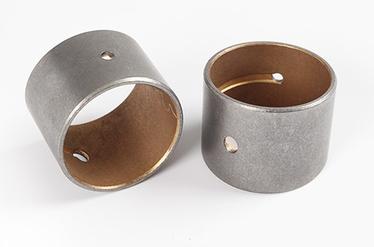 Kingpin bushes require very high precision manufacturing. We do understand the requirements for its applications and
thus we deliver precise products. Our bimetal kingpin bushes are manufactured as per customer specifications and are provided in machined as well as pre-machined sizes as required. We take extra care that these bushes serve the purpose well and provide longer life than normal.
Bimetal bushes for heavy machinery applications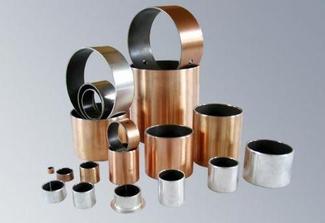 Bimetal bushes are frequently used in heavy machinery for various applications. We manufacture these bushes as per customer specifications and customer requirements and they are of superior quality to operate in any rough
environments, yet they must perform their task without any compromise.
Bimetal bushes for other automotive and engineering applications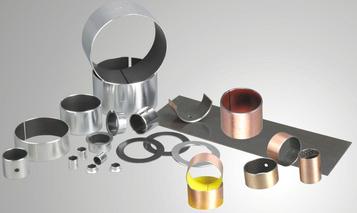 In addition to the above, bimetal bushes has various other their application in brakes, gearboxes, connecting rod, steering
and many other areas. We develop and manufacture bushes for various applications as per customer requirements and specifications.