Vee Packings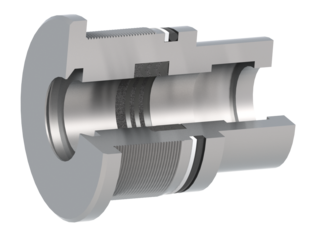 Vee-packs are complementary male/female vee-joined seals that are used to seal rods and pistons in hydraulic and pneumatic applications.
Vee-Packings or V packings are a set of multiple lips (chevron) packing sets specially designed to seal static, reciprocating applications. The male and female adaptors are used to complete a set of vee's and to assist in sealing when compressed.
The selection of fabric or homogeneous compounds should be made on the basis of operating pressure (as is true with the number of rings per set), temperature and the media being sealed.
The Set of Vee Packs are of 1+3+1 / 1+5+1 / 1+7+1 as according to the operating pressure and application. Here 1 + 1 indicates the Male and Female adapter between where the Vee packs are being placed.
To obtain a complete set, order Male, Female and the number of pressure rings you require to make up a complete set.
In unusually high pressure applications, CHEVRON® vee packing might need to be reinforced to prevent undue distortion from this extreme pressure. The following are examples of some design considerations that can be used to overcome problems experienced with standard components.