O Rings
O-Rings are a simple but very versatile sealing solution.

NASA experience a catastrophic failure in Challenger. Disintegration of the shuttle stack began after an O-ring seal in its right solid rocket booster (SRB) failed at liftoff. The O-ring failure caused a breach in the SRB joint it sealed, allowing a flare of pressurized hot gas from within the solid rocket motor to reach the outside and impinge upon the adjacent SRB attachment hardware and external fuel tank. The SRB breach flare led to the separation of the right-hand SRB's attachment and the structural failure of the external tank, dumping the liquid hydrogen fuel load all at once and causing a massive explosion as this fuel was immediately ignited by various present flame sources.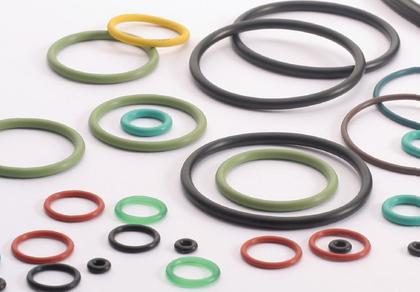 While it's unlikely you are considering an application as critical as this, potential leakage of many gases, and chemicals can be just as deadly. The Thumb Rule in o-rings is: If there is any potential for temperature or pressure excursion, Always design for the worst case scenario.
Widely used in static applications but can also be used in certain dynamic applications.

Can be jointly used with a backup ring to increase pressure tolerance and to assist in resisting extrusion.

Available in a wide variety of material, profile and sizes.

Used in a wide variety of applications.

They offer simple yet effective solutions.

Highly recommended for static applications.

Ideal alternative to natural rubber and moderate oil resistance properties.
SIZE REQUIREMENT

We made a very huge varieties of O rings with different material and different sizes. Xerkin produces O rings and O ring cord as per customer requirements. We have the capability to produce any type of O ring in any size.
O-ring is internationally specified by Inside Diameter (ID) x Cross Section (CS).
O-rings use BS or ARP Standard numbers to identify size. This is a three digit number i.e. 214. The first of these three digits represents the Cross Section (CS) and the other two numbers are sequentially increasing Inside Diameters (IDs).
All imperial O-ring cross-sections are nominal sizes. For example a 1/16 O-ring has an actual cross section of 0.070 inches, not 0.62 inches. All metric O-ring cross sections are actual sizes.
TYPE OF MATERIAL

Our selection includes o-rings in different materials including: Viton, NBR, HNBR, XNBR, PTFE (Teflon), EPDM, Fluorosilicone,  Silicone, Neoprene, Aflas, Kalrez, Chemraz etc.
OTHER FACTORS 

O-rings are also specified as following:
Degrees of Hardness (Durometer) 
Durometer is the international standard for measuring the hardness of rubber, plastic, and most non-metallic materials. The hardness of a material is defined as its resistance to surface penetration and is defined by its Shore.
O-rings can come in a range of hardness from 25-90 Shore.
Industrial Standards
O-rings can be specified by Industrial Standards
– JIS B2401 (Japanese-specific sizes)
– ISO 3601-1 & DIN 3771-1 sizes
– BS  & SAE AS568A (Imperial sizes, in inches)
– BS 4518 (Metric sizes)