Custom Moulded Parts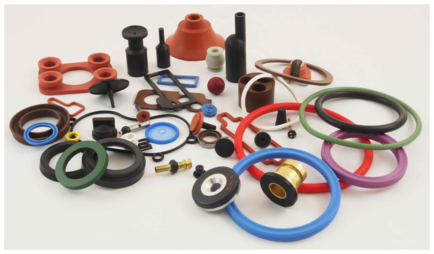 XerKin do produce a varieties of Rubber Products and is a premier supplier of custom molded products. Our specialization in rubber molding processes summed up with our expertise in using best rubber compounds makes us the best and reliable supplier for your requirements for molded components. Our products' services span the gamut from prototype development through high volume molding capabilities. We are offering a wide and complete range of Injection molding, Transfer molding and Compression molding services for our customers.
MOLDED COMPONENTS
Our products has been developed over more than 1000s compound formulations to satisfy and fulfill a wide range of specialized needs. Our associated facilities have the expertise to develop rubber solutions that will optimize your components performance in your applications.
In-house compound formulation development, and mixing capabilities.
Over 100 engineering polymer facilities to work from.
Expansive varieties of compound properties available.
Polymer & Material offerings :



​
ACM – Polyacrylate or Acrylic Rubber
BR – Polybutadiene Rubber
CR – Polychloroprene Rubber, Neoprene® Rubber
EPDM – Ethylene Propylene
FKM – Fluorocarbon, Fluoroelastomer Rubber, Viton®, Fluorel®
HNBR – Highly Saturated Nitrile or Hydrogenated Acrylonitrile Butadiene
IIR – Isobutylene Isoprene Rubber, Butyl, Bromobutyl, Chlorobutyl Rubber
NBR – Acrylonitrile Butadiene, Nitrile Rubber, Buna N Rubber
NR – Natural Polyisoprene Rubber, Natural Rubber
SBR – Styrene Butadiene Rubber
SNR/IR – Synthetic Polyisoprene, Synthetic Natural Rubber
UR/AU/EU/PU – Polyester & Polyether Urethane Rubber
VMQ/PMQ/PVMQ – Silicone or Polydimethylsiloxane Rubber
XNBR – Carboxylated Nitrile Rubber
Custom Parts :
Bellows
Bulbs
Bumpers
Bungs
Bushings
Check Balls
Connector Seals
Convoluted Boots
Cups
Diaphragms
Gaskets
Grommets
Inflatable Seals & Shapes
Isolators
Lip Seals
Mechanical Seals
Molded Gaskets
Protective Boots
Special Plugs
Special Seals & Shapes
Special Seats