Gun Metal Bushes

Gun metal or Brass and Bronze are specifically used as materials for making high quality bushes. Different alloys have different properties of hardness, wear resistance, heat resistance, etc. As per applications or as per customers requirement, we manufacture the right material with defined dimensions for you.
Our bushes are made of high quality graded material conforming to international specifications and properties. To adhere to the composition and achieve best properties, we use the right material. Our gun metal bushes are made out of virgin metals for alloying, thus drastically minimizing the impurities at the source itself and imparting the best properties to our products.
The bushes are machined and ground to smooth surface finishes achieving excellent bearing properties. With the perfect material and precise manufacturing, our products are manufactured to perform and last long.
Specifications:
Brass (especially as per European Grades)
Phosphor Bronze
Leaded Bronze
Aluminum Bronze
Manganese Bronze
Gun metal spring Bushes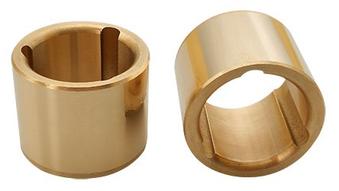 Gun metal bushes are used extensively in laminated spring eyes and shackles. These bushes have to endure various loads and stresses. Our spring bushes, made of the right material are equipped to endure this very well. We provide
these bushes with perfectly designed and machined grooves to retain oil for lubrication.
Gun metal kingpin Bushes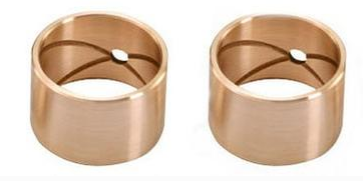 Because of its application, Kingpin bushes require very high precision manufacturing. Our kingpin bushes are manufactured as per customer specifications and are provided in machined as well as pre-machined sizes as required.High superior quality grades with properties taken which can serve the purpose well and provide longer life than normal.
Gun Metal bushes for heavy machinery applications

Gun Metal bushes are frequently used in heavy machinery for various applications. We manufacture these bushes as per
customer specifications and customer requirements and they are of superior quality to operate in any rough environments,
yet they must perform their task without any compromise. Our product's performance surpasses expectation everytime.
Gun Metal bushes for other automotive and engineering applications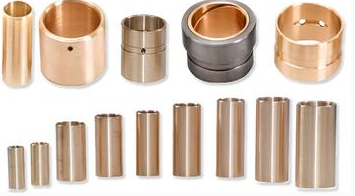 In addition to the above, gun metal bushes has various other their application in brakes, gearboxes, connecting rod,
steering and many other areas. We develop and manufacture bushes for various applications as per customer requirements
and specifications.